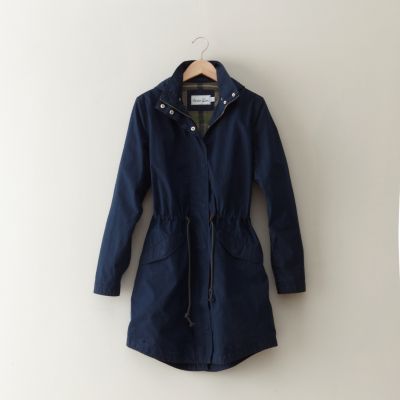 Seaside Parka|
Steven Alan
No kidding that is the only jacket you would ever really need if you lived in San Francisco.
There is basically one long season that has random bouts of sunshine and consistent fog and winds. It essentially never snows here. They have a chronological data bank of dates it has snowed.
That being said you also need to be prepared for just about every season but winter. However, you have to be be prepared for them on a daily basis.
Yesterday morning I walked to yoga at 9:00 am with my arms wrapped around myself despite wearing boots, and the chambray shirt from K's most embarrassing item post. It was foggy and chilly.
By 12:45 pm I was cursing myself for wearing boots and the same chambray shirt on my walk to help a friend out at her studio (if you love adorable beasts and hand made artistry, check her out!). I was baking and worried about getting sunburned.
By 5:00 pm on my walk home, I wished I had a jacket.
And if I went out at night, I would need a wool sweater, scarf, gloves and a jacket.
All that aside, I love it here, as far as I have experienced it rains little, and I wear pretty much the same things all year. Sometimes I wish I could wear the same thing all day and into the night like you can in NYC, but I prefer the mild weather to extremes.
And by the end of writing this post I have basically convinced myself to find a way to buy the Steven Alan jacket, because I will actually wear it everyday, so it's worth it, right?
xo J